Blog
How To Prep Your Garage Gym For Winter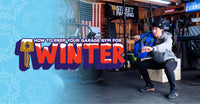 Do you workout in a garage style gym?
If you do then you know exactly what happens when the season changes and the cold weather starts settling in.
Your entire fitness environment changes.
Unlike a conventional gym that has insulation and heat, garage gyms typically don't so when the cold approaches, it now takes you longer to warm up, your equipment is cold to the touch, and you have to utilize different methods for getting the job done.
So how do we effectively prepare ourselves and our garages to take on the winter months? We seek out advice from others who live in colder climates and ask them to share their best "tips and tricks" for winterizing our garages!
We recently interviewed 6 different Street Parking members who live in a variety of cold climates (Utah, Massachusetts, Canada, Ohio, etc.) and have personal experience with working out in their garages during the cold, oftentimes harsh winters. We asked them to share their best tips on how to prepare your garage gym for the winter months and they delivered. Check out their tips below, see which ones resonate with you, harness these resources, and let's get your garage gym prepped for a winter of fitness!
Heat:



Investing in a garage heater is a must have item if you live in a cold region. Before I workout, I turn my heater on for 10 minutes which is all it takes for my garage to heat up. After 10 minutes, I turn it off and the environment now makes for a pleasurable workout experience 

Because my garage is detached from the house, I don't bother with bringing barbells or dumbbells inside overnight. Instead, I place them in front of my heater to warm them up as I warm myself up

I check the workouts the night before and bring the equipment I plan on using into the house/mud room. This keeps the equipment at a reasonable temperature

We don't have any heating in our garage so we run two heaters at opposite sides of the garage. One heater should be fine but we upgraded to two when we could so that more of the space got heated up vs. just one spot

I like to workout in the afternoon so when I get home from work, I immediately turn on my heater, place my dumbbells next to it, and wait for 20-30 minutes before I start my workout

I put a tarp up around my garage gym to prevent cold air from coming in and it helps a lot

If you decide that you're very committed to working out in your garage, consider getting it insulated. My husband did his best to put insulation in between the studs and rafters and then covered it all with thick plastic. In the winter months, he'll cover the entire door with tarp to seal off any gaps 

Over the years we tried various space heaters and finally ended up getting a commercial heater installed. Keep in mind if you go this route you'll need an electrician to install it because it needs to be hardwired, not just plugged in
Heating Tips and Safety Precautions:

Again for clarification, depending on what kind of heater you decide to utilize for your garage gym, there are certain precautions that you need to research and take seriously. Especially if you're going the commercial heater route, please hire an electrician to install it properly.

Clothing:
On really cold days when it's in the single digits, I wear gloves (basic winter gloves from Walmart). Most times I can take my gloves off halfway through the workout

Dress in layers. I start off in my Street Parking hoodie, then strip to a long sleeve when I'm warmed up. On super cold days, I wear a beanie

Get yourself some sweatpants, hoodies, and beanies. I have a few pairs of the Street Parking Joggers that I have in rotation along with the "Always On" Street Parking hoodie. I'm a long warm up type of guy so when it comes time to actually work out I have already peeled off the hoodie and beanie and am fully warmed up and ready to go

I love layering up and working out in the thin Under Armour pants and long sleeve shirts. They have a great selection of cold gear

Some people don't like wearing a lot of clothes when they workout so if that's you, at least consider keeping your head and hands warm with a beanie and gloves 

If you're going to wear gloves, make sure they have a good grip on the fingers and palm so your barbell/dumbbells won't easily slip out of your hands. I found that construction gloves from Home Depot or Lowes worked well and were durable 

Equipment:
If you have a rower or bike that requires batteries in order to function, you might consider using an outdoor faucet cover to save the batteries. There's nothing worse than hopping on the bike and realizing that you don't have any new batteries and you have to guess calories or length  

No one likes a frosty barbell or pull up bar, so I like to cover mine with 3/4" tube insulation. This might be more of a mind over matter situation but it helps me stay motivated

In the Winter months I tend to use my sandbag more often because it doesn't get as cold as equipment items like dumbbells or barbells

Consider buying rubber mats and covering the concrete floor. I found that before I had rubber mats, the cold would really bounce off of the concrete floor and keep the air cold longer 

Movement:



On especially cold, dark days when my motivation is super low, I do #morethannothing inside. I keep a kettlebell in my living room at all times so I can do SHIFT workouts (the simpler version of the regular Street Parking workout) or just modify the regular programming. I'll jump over laundry baskets in lieu of box jumps and do hop overs, toe taps, or mountain climbers in place of running and jump rope

It's really easy to stray from the path when it's 10 degrees out and dumping snow. Construct a solid routine for yourself, know exactly when you're going to workout, and read the workouts the night before. This helps you mentally plan for the next day so you're ready to go

I commit to warming up FULLY during the colder months. My body is more stiff when it's cold so I take my time to warm up before I jump into the workout

Don't underestimate how effective bodyweight workouts indoors can be, especially if you bring your intensity. Here's an example of a 

bodyweight workout

from our Youtube channel.
The Street Parking community is full of individuals who live in cold climates and if there's one thing we've learned it's that we're all in this together. Cheers to getting your garage prepped and we will see you in the garage for a winter of fitness!
Blog collaborators (real people doing real fitness in their garages during the Winter):