Blog
Street Parking Recipes: 3 Community Favorites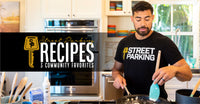 When you become a Street Parking member, you gain instant access to weekly recipes shared by Coach Molly. Additionally, if you ever decide to invest in a Street Parking Nutrition Template, all of these recipes include serving breakdowns that are compliant with the templates. 
To give you an idea of what the recipes are and how they're explained, we're sharing 3 of our "community favorites" recipes below!
1. Crispy Garlic Ranch Roasted Potatoes
Inspired by "The Real Food RDs"
Prep Time: 15 minutes
Cook Time: 30 minutes
Total Time: 45 minutes
Ingredients:
800 grams small baby red potatoes, halved
3 tbsp ghee, melted
2 tsp dried dill
1 tsp dried parsley or chives
1 tsp garlic powder
1/2 tsp onion powder
1/2 tsp sea salt
1/2 tsp pepper
Instructions:
Preheat the oven to 400°F
In a small bowl, mix together the melted ghee, dill, parsley or chives, garlic powder, onion powder, salt and pepper
Put the potato halves in a separate bowl, then pour the seasoned ghee in and mix thoroughly
Place potato halves (cut side down) onto the baking dish
Pour any remaining ghee over the potatoes. Top with a sprinkle of additional sea salt
Bake for 35-40 minutes until potatoes reach the desired degree of crispiness. Bottoms should be nice and golden brown and crisp
Whole Recipe Serving Breakdown:
0 Servings Protein
8 Servings Carb
3 Servings Fat
0 Servings Veggies  
Note: This serving breakdown section is provided in every recipe for our members who follow the Street Parking nutrition template
 
2. Spicy Shrimp Tacos  

Inspired By: Every Last Bite
Prep Time: 10 minutes
Cook Time: 20 minutes
Total Time: 30 minutes
Ingredients:
950 grams large shrimp, shells removed and deveined
2 tbsp olive oil
2 tsp cumin
1 tsp chili powder
1 tsp smoked paprika
1 clove garlic, crushed
1 tsp salt
1 tsp pepper
Coleslaw & Cilantro Lime Sauce
1/4 cup chopped scallions
3 cups shredded purple or green cabbage
1/2 cup mayonnaise (See below for recipe)
1/3 cup chopped cilantro
2 cloves garlic
2 tbsp lime juice
1/3 cup chopped scallions
pinch salt
Avocado Tomato Salsa
2 medium tomatoes diced
1 avocado diced
1 jalapeno finely chopped
1/4 cup cilantro roughly chopped
1 tbsp lime juice
1/2 tsp salt
Carb (this isn't included in the recipe breakdown but based on which carb you choose, serving sizes for that carb are explained in the nutrition templates)
Tortillas
Rice
Any carb of your choice! 
Mayo Recipe Instructions:
Break 1 egg and add lemon juice into your immersion blender container.  Leave to sit at room temperature for 30 minutes to 2 hours
Add 1/4 cup of oil to the container. Blend until ingredients are combined
Pour the remaining 1 cup of oil extremely slowly...the smallest drizzle at a time while blending together. This may take 2 to 3 minutes. You will eventually see the consistency of the mixture become more mayonnaise like (if it doesn't, you may have added the oil too quickly.)
Full Recipe Instructions:
Place the shrimp in a bowl along with 1 tbsp olive oil and all of the spices and toss with your hands to ensure they are well coated. Set aside to marinate for a few minutes 
To make the coleslaw: In a bowl combine the shredded cabbage and 1/4 cup chopped scallions. In a food processor, combine the mayonnaise, cilantro, garlic, lime juice, salt and 1/3 cup chopped scallions and blend until smooth. Pour approximately half of the sauce over the coleslaw and toss until it's well coated. Set aside 
Heat a sandwich press or alternatively put a grill pan on medium heat and grill the tortillas for approximately 5 minutes until grill marks form and they are tender and pliable 
In a bowl combine all of the ingredients for the salsa and stir until well mixed 
Heat 1 tbsp olive oil in a skillet on high heat and then add in the shrimp. Cook them for 3-4 minutes per side until pink 
To assemble, fill each tortilla with the coleslaw, avocado salsa and shrimp and then drizzle with the extra cilantro lime sauce. Serve with wedges of lime and sliced jalapeños 
Whole Recipe Serving Breakdown:
16 Servings Protein
0 Servings Carb (plus however many servings you have with your side)
4 Servings Fat (There are 4 servings of fat in this entire recipe without the sauce and the sauce is an additional 4 servings.  If you wish to reduce the fat in this recipe further, you can omit the avocado in the salsa portion of the recipe.
4-5 Servings Veggies 
Note: This serving breakdown section is provided in every recipe for our members who follow the Street Parking nutrition template


3. Crockpot Carnitas with Pork Tenderloin
Inspired by: 40 Aprons
Ingredients:

Rub
1 tbsp dried oregano
2 tsp ground cumin
1 tbsp/15 grams avocado oil or olive oil
Crockpot Carnitas
2 pounds/900 grams pork tenderloin or loin
1/2 onion/37 grams chopped
3 cloves garlic minced
1 jalapeño chopped
2 tsp salt
Juice of one lime
Juice of one navel orange
Instructions:
Pat dry pork tenderloin with paper towels
Combine rub ingredients and rub all over tenderloin 
Place tenderloin in your Crockpot
Top with remaining ingredients, cover, and cook on high for 4-6 hours or low for 6-8 hours
When done, the meat will be cooked through and very tender, easily separated with a fork
Remove the tenderloin from the Crockpot and shred the meat with two forks. Do not discard juices
-To Serve-
Heat a drizzle of olive oil in a medium skillet over medium heat. Add enough carnitas to cover the surface without crowding and ladle a little of the carnitas juice over. Cook until juice has evaporated and the bottom of carnitas is crispy and browned. Flip and cook briefly, but not until too brown
Remove from the skillet and drizzle with a little more juice. Serve in a bowl with rice, lettuce, grilled veggies! Top with avocado and cilantro!
Wait until you're ready to serve to sear the meat in the skillet. Keep in the refrigerator in an airtight container with juices drizzled over until ready to serve
Whole Recipe Serving Breakdown:
27 Servings Protein
0 Servings Fat (the fat is minimal once it's spread across all the servings. We recommend topping with avocado for additional fat)
0 Servings Veggies (For your veggies we recommend mixed greens and grilled peppers)
0 Servings Carb (For your carb you can serve this over a bed of rice or sweet potato)
Note: This serving breakdown section is provided in every recipe for our members who follow the Street Parking nutrition template


When it comes to nutrition within the Street Parking community, we want to provide you with stepping stone processes that help you build a sturdy foundation. If you've been following along with our nutrition blogs you've noticed that we do that by providing different resources such as: our initial 3 step process, nutrition templates, and recipes that are nutrition template compliant. 
For those who want to take it a level deeper we also have nutrition coaching. Want to learn more about our nutrition coaching options and how the process works? CLICK HERE.