Blog
How To Stay Consistent During This Fall Season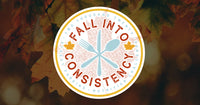 Fall is here which means the weather starts changing, summer is over, schedules shift, and the kids start school one way or the other! With less daylight hours, we gear up for winter and look to get cozy and comfortable. On some deep, natural level, we get tempted to settle in for the Fall harvest and cold Winter. We crave sweet things and have less energy to be active. Our bodies may even be trying to prepare us to last through the winter by packing on some pounds.

The thing is, we aren't living in "hunter/gatherer" or even "primarily agricultural times" anymore. For the most part, we have access to the same resources year round which means we don't need to put on that extra (not the good kind of) mass in order to survive the harsh winter, even though our bodies may still be trying to urge us to do so.

When it comes to staying consistent, the biggest struggle we see in the Fall is change, and it makes sense as that seasonal change is often at the same time as those colder, darker, and perhaps busier months.

With change, the need for consistency, while often being more challenging, becomes even more crucial.
WHY IT'S CRUCIAL TO MAINTAIN CONSISTENCY DURING THE FALL
What season comes right after Fall? Winter, the most wonderful time of the year! For some reason, once the holidays hit, everything goes out the window for a lot of us. From mid-November to the beginning of the new year everything becomes fair game (family, parties, booze, pies, etc.)

Now, we're not saying you shouldn't eat the cake, go to the party, or drink the champagne when the holiday season comes around. What we are saying is that if you dial in good habits now during the Fall, you will be setting yourself up for success in the Winter. If you're practicing good habits on a daily basis leading up to the Winter, you won't be as tempted to dive off the deep end into the holiday chaos, you'll feel better overall, and you'll enjoy yourself more.
IDEAS FOR MAINTAINING CONSISTENCY THIS FALL SEASON
So how do you go about building good habits that will help you maintain consistency as you transition into this Fall season? Here are a few ideas:

Consistency Over Everything:

If you are super busy, adjusting to your new schedule, sleeping less, craving more sugar, or feeling generally unmotivated, remind yourself that 15-20 minutes of movement is better than 24 hours of nothing.

Manage Your Expectations:

When you are struggling with consistency, remind yourself that you aren't an outlier for feeling this way. The majority of us are feeling this way. Remind yourself (or say it out loud to yourself) that this is to be expected and you're prepared for it.

Change your expectations of what your fitness, eating habits, or motivation levels need to look like right now. Your workouts may not be as intense as they were in the Summer. It's OK. Getting a 20 minute workout in the Fall at 60% intensity vs. the 80% you were feeling in the Summer months will always reap more rewards than giving 0% intensity.

Commit to a Challenge:

Every year, Street Parking hosts the "Fall into Consistency" challenge where thousands of our members participate. As a team, we commit to walking through this season together. Remember, you're not the only one feeling the shift that comes with this season -- we all are.

During the 6 week challenge we focus on the quality of our food (utilizing the SP nutrition templates), movement, drinking enough water, and sleep.

Now -- earlier we said that if you can maintain good habits during this Fall season, you'll automatically be setting yourself up for success in the Winter. Here are a few examples of past "Fall into Consistency" challenge participants that committed to maintaining good habits and here were some of their results: 
"I lost 14 lbs over the course of this challenge and based on the three different measurements, a combined 9". I'm so pleased with my progress this time. I was able to stay very consistent, both with my workouts and my nutrition. I wasn't perfect, but I didn't let one misstep completely derail me. There were a few special days when I enjoyed a treat, but I was right back on track afterwards. That was my biggest accomplishment, and what I'm most proud of. I didn't try for perfection and it worked so well for me this time. My non-scale victories include much better sleep and I was able to hike 4 miles with my two kids. I even had to carry my three year old on my shoulders for a portion of it. It was the first hike I've taken since I had my 3 year old, and it wasn't even a struggle for me."

-Tricia Isakson
"I'm down 12 lbs in six weeks from this challenge. I was a part of the advanced track, using the performance template for 181-200 lb males. I have done well overall and feel like I perform better in all of my workouts! I did the CF Open during this and held my own or did better than the people at the box I dropped into. I've been consistently faster, stronger, sleep better, and got my first ring muscle up! I got a lot of comments about my weight loss during the 6 week challenge, both from work people and friends. At the last Street Parking meet up, I got a lot of comments about how much I've lost." 

- Greg Schneider
If you want to be in good company this year and walk through this Fall season with a group of people who understand you, registration for our 2020 Fall into Consistency challenge is currently LIVE. Here's what you'll need to do if you would like to join:
You must be an active SP member to participate in our challenges (sign up for your membership here)
Once you're an active SP member, you can register for the challenge. Registration fee for the challenge is ($20) and you'll be able to sign up through our Members Only website after you become an active SP member
If you are not an active SP member but want to participate in the 2020 challenge, you need to sign up for a membership by Sept 9th at 12pm PST. If you'd like to participate in the challenge, registration for the challenge closes on Sept 10th at 4pm PST.
All in all, as you transition into this Fall season, we want you to take comfort in knowing that you aren't alone with how you're feeling. For the most part, all of us are feeling the same exact way, and the best thing we can do is prepare for it by having strategic, simple, actionable steps set in place for when it happens. Maintain consistent habits throughout this Fall season. Your Winter self will thank you.