Blog
Tips for Juggling Work, Fitness, Homeschooling, and 2020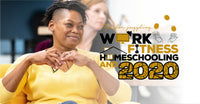 As we approach this Fall season, we usually get back into the regular groove of sending our kids back to school. This year however, schooling looks very different for a lot of us, including many of our kids suddenly becoming homeschooled. 
When it comes to being a working parent, maintaining a consistent fitness lifestyle, and now out of the blue -- homeschooling our children -- there are a lot of questions going through our minds and advice we are desperately seeking. 
We know this is an odd time for a lot of us so we interviewed one of our very own Street Parking coaches and gathered some of her best tips on how to be a working parent who maintains a consistent fitness routine while also being a homeschooling parent. Mazie's exact story may not match yours -- and let's be honest -- who do you know that has the exact lifestyle as you -- but read along and see which parts of her story you can relate to and what tips you can pick up and implement into your own life as you walk through this uncommon Fall season.


Mazie, tell us a bit about yourself 
I've been married for 20 years

I live in North Carolina 

My husband and I have one child (age 7)

I've been an athlete most of my life and eventually came across Crossfit

I pursued my L1 and L2 Crossfit certs and have been coaching for 7-8 years now

We sent our son to Montessori school for 2 years, then moved him to a private Christian school for 2 years, and now he is homeschooling

I was a Street Parking member for almost a year before transitioning into a full time coach. I have been a coach with SP now for a year

How did you end up homeschooling your son?
When my son was younger we sent him to a Montessori school for 2 years and then moved him to a private school for 2 years. It was during his time at the private school that we found out he was bored. He finished the school year and we made a last minute decision to homeschool him. We've been homeschooling him now for almost a year. For context, I know my timing for homeschooling my son isn't the same as the position a lot of parents are finding themselves in right now, but the insight and tips I have will be one and the same. 


What are your best tips for someone who is just starting out with homeschooling?
Take a deep breath. Begin the day alone in reflection or meditation. Doing this will charge your battery.

If possible, eat breakfast with your child. Reflect and talk about what your day is going to be like. Sort out the daily operations.

Your schedule will be an adjustment because right now you will no longer be getting up and rushing out the door every single day. It's a bit different when your child is doing their schoolwork at home. Give yourself some grace and give yourself and your child time to adjust.

Because your child will be home more often, they won't be getting the socialization they're used to with their classmates. Find ways for them to get that social time, whether it's with other adults or kids.

Classroom setting: Think about what you want for your child. My son and I like to work outside, at the kitchen table, laying down on the living room floor, or even in my home gym. Your kids aren't going to be confined to a specific space like they are in school. Figure out what works best for them, whether it's a structured area or freedom to switch it up. 

Homeschooling offers flexibility and this may be a great time to hone in on their craft or interests. Whether it's music, dance, art, etc, you may have more time to develop their gift.

You don't HAVE to homeschool in the morning. You can begin at any time. If you're a working parent, it may be beneficial for you to help your child homeschool during odd hours or days.


What are your best tips on how to schedule your day if your child is now at home vs. at school?
The image of homeschooling is often presented as a stay at home parent quietly reading to their kids in the living room. That's a great image, but it's not a realistic representation of what it really looks like. Homeschooling looks different for every family and every situation, as it should. 
One of the hidden gems of homeschooling is that it allows for a flexible schedule. Do you work a 9-5 job? Consider scheduling your homeschool hours in the evening and on the weekends. Do you work part time? Homeschool on your off days and weekends. The key is to make the schedule work for you. Be creative and always think outside the box.

Create a plan together. Let your child know what your schedule is going to look like as well as their own. 

Setting a schedule is beneficial and essential for both you and the kids. If you know that they'll be preoccupied with reading for an hour, that's the perfect time for you to hold a virtual meeting, make calls, get a workout in, or focus on your work.

Begin the day at a reasonable time, but don't jeopardize sleep to cram it in. Sleep is important for the entire household -- especially right now during a chaotic time -- and in order for your child to thrive academically, they need proper sleep for energy, focus, concentration, information retention, and creativity. For yourself, prioritize sleep for your mental, physical, and psychological health.

Block out a few hours for schoolwork directly followed by a break/recess. The difference between homeschool and brick and mortar school is the mental breaks given at school are generalized, not customized to fit your child's needs. Use this time to pay attention to your child's specific needs for the work/break balance and adjust the balance based on how they seem to be functioning best.

Use this homeschooling opportunity to expand your child's definition of what education is. Education comes in many forms past Math and Science. Expand what's being taught and add in different activities like having them do laundry, vacuum, help out in the garden, etc. This will teach them to work hard and be responsible in multiple areas of life and will provide you with some more time to get your own tasks done. 

 

What are your best tips for keeping your kids on task throughout the day at home?
There are many distractions throughout the home: a pet, television, electronic devices, toys, basketball, etc. Give your child an incentive for earning 30 minutes of break time, but only if they've completed their schoolwork correctly. Try doing 2 hours of work followed by 30 minute breaks and see how that works 

Incorporate exercise: Whether your child has a lot of pent up energy or is struggling to focus on their studies, the answer is to get them moving. Kids are not built to sit for long periods of time, so build exercise into their curriculum.

Depending on the size of your family and home setup, there could be some challenges when it comes to dedicating a specific space for working. This will be a trial by fire scenario as some kids love the structure of going to the same, quiet space to work, while other kids may need to switch it up and be free to rotate where they get their work done. The nice part about homeschooling is you can get creative and do work from wherever you want including the backyard, garage, living room, kitchen table, etc. 

Be present with your child! If you have the time and capacity, help your child learn through experiences vs. strictly having them read their textbooks. Instead of picking up a book about an animal, go to the zoo, or attend virtual tours through museums. Teach them about money management, home economics, or have them teach you the lesson. There are many resources available. Try to make it fun and hands on.

Set a timer by building increments from 15-30 minutes for them to complete their work. Don't forget to praise them for a job well done when they've completed individual tasks. One task at a time is how you'll make it through the homeschooling process.

Don't fall into the trap that your child is behind. Education will have to bend in order to keep pace with your child's learning capabilities. Reach out to their teachers or advisors with specific concerns or challenges but always remember that homeschooling is flexible.

 

What are your best tips on how to maintain a consistent fitness lifestyle while juggling your career, life, and now having a child at home most of the day?
Homeschooling is flexible, so don't let it disrupt the family life, work schedule, or fitness schedule. Wake up before the kids to accomplish your workout. I personally wake up early and get my workout done before my son wakes up

Be realistic and patient with change. If you're having a lot of bad days in the beginning stages of this transition, throw your expectations out the window of what you think your workout is supposed to be like, and commit to getting the workout done anyways, even if it's sloppy and off.

If you can adjust your work hours to make your fitness time more convenient, do it.

If your child is independent enough to hone in on a task without needing your assistance or attention, create a task for them, set a timer, and go get your workout in.

Incorporate your child into your fitness routine and have them workout with you.

Don't make excuses or wait to feel motivated to workout. Stay focused on building the habit of just getting it done no matter what.

Share this responsibility with your spouse. Make it clear that fitness is a priority and that you'll need their help in certain areas so that you can accomplish this daily goal.

 
To end this, I want to say that I know my lifestyle and how I make things work isn't a one size fits all answer. It takes time and effort to find the balance of being a working parent, homeschooling parent, and maintaining a consistent fitness lifestyle. At the end of the day it all boils down to priorities. There are multiple ways to get each task done and your job is to craft an environment and schedule that enables you to accomplish it all.
Take a deep breath. You can do this.