Blog
Project April: WHAT, WHY & HOW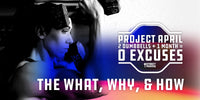 ---
FIRST, THE STORY BEHIND PROJECT APRIL
"Project April (or "
P
roject 
A
pril: 
P
rogram 
A
") started as something Julian and I thought would be fun to do back in April 2018. We noticed how many members at that time were under the impression that the Dumbbell version (or PROGRAM A) was the "easier" version of the Daily Workout. We often answered questions or had to explain that the different programs were NOT levels, just options based on available equipment. 
We were trying to teach our members that even if all that you have access to are dumbbells, it is more than enough.
 
So we decided we would ONLY do Program A as our daily workouts for an entire month, no heavy barbells or sandbags. We wanted to put our "money where our mouth is" and show that we believe in our own message and program. We posted on the Members FB Group that we were doing it - and in true Street Parking Community fashion - everyone jumped on board, and Project April was born.


The result? Many members grew to love the dumbbells more than the bar. A few even said they never went back to the other versions of the Daily Workout!"



And in 2020? Dumbbells in the living room were a way of LIFE. People from all over the world found themselves training from home for the first time ever. Street Parking dumbbell workouts were a way to save your fitness. The annual "Project April" unofficial challenge gave many members something to connect about or even use as a return to the basics while so many other parts of life felt out of control. 
---
What is Project April?
Project April is an unofficial, yearly challenge to the Street Parking community to only use dumbbells for the Daily Workouts during the entire month of April. 
We ALWAYS have dumbbell only programming. But come April, the coaches, the SP team, and the community take on Project April for all kinds of reasons: it can be a fun change, it can be humbling, or just be the necessary reminder that effective, even life-changing fitness, can be SIMPLE. The reasons are endless. The results are proven. 
And April is your chance to experience it. 
---
Why should I participate? 
Project April will help you build confidence that if all you have are dumbbells (or find yourself in a situation when dumbbells are all you have) it is enough.
Maybe you haven't ever given dumbbells a try, 

because you think you need MORE to actually reach your goals, or that without access to a gym (or just not wanting to go) that you don't have what it takes to get started. 
Or maybe you have grown attached to a decked out gym. 

Many of us love having equipment options or are fondly attached to our barbells. Or think since we can go heavier with a barbell, it must be harder than dumbbells… we get it and we've heard it all. But we know how challenging the dumbbell version can be, especially for anyone who isn't used to it. 
Project April is the time to prove it.
Give yourself a chance to experience the simplicity and effectiveness of dumbbell training. 
Give yourself the chance to find out if training at home works for you, as we have variations of the workout for ANY level of experience, age, or background.
Give yourself the opportunity to make fitness part of your lifestyle without spending excessive time or money in order to make it happen. 
---
How can I get in on this? 
Once you are a Street Parking member, you have nothing else to sign up for in order to participate. 
Invest in a set of dumbbells* (if you don't already have access to some) and we will provide you with all the tools you need to take it from there: the workouts, the demo videos, the customizations, and the support of a community and coaches who are in this with you. We'll even add a cool badge to your Trophy Case once you jump in because who doesn't love a little carrot to chase? 
You don't ever have to worry about lack of resources, support, guidance or ideas to help you take control of your fitness when you are part of Street Parking.
Brand new to this style of training?

You can start with our OnRamp Extra Program or Daily SHIFT workouts, to learn how to move well and where all you need is a light set of dumbbells for ANY workout.




Brand new to Street Parking, but not necessarily the gym or this style of training?

You can jump in and follow the Program A (dumbbell) version for your Daily Workouts at any time. We will still include other movements/equipment in those workouts

(such as box jumps or pull ups)

as usual. As always, 

customizations will be provided for everything

– which includes what to use if you ONLY have Dumbbells! 
(And don't worry, after April is over and you have fallen in love with your dumbbells, the Program A workouts are there for you year round – along with some of our other specialty Extra Programs featuring dumbbells like Dumbbell Strength, Butts & Guts, Suns Out Guns Out, Bro Sessions and so much more.)
Are you IN? 
Joining is easy to do (and on the bank account): Street Parking Membership subscriptions are $19/month with no contract. 
---
*About investing in those dumbbells — right now Street Parking Members receive 10% off all dumbbells from Rep Fitness Equipment just to help you get started! Discounts are available through the exclusive Members Only website. 
A note about selecting dumbbells: Our programming is usually written with 40# dumbbells for men and 25# dumbbells for women. If you are newer to training, go a bit lighter. Already have dumbbells that aren't those exact weights - IT DOESN'T MATTER! Use what you've got!
Find us on the socials:
Take a scroll through the hashtags or share YOUR posts with us using #streetparking #projectapril
Still on the fence?
Check out some of our favorite workouts or conversations about dumbbell training: 
Coaches' Roundtable: No Garage, No Problem
---