Blog
3 Recipes Perfect For Summer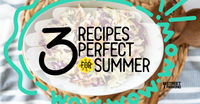 Our beliefs about the way we should eat are the exact same as how we should train.

Consistency is everything.

Every single one of us needs to find something that works for us and that something needs to be sustainable.

In a world of fad diets, cuts, macronutrient elimination diets, and super strict eating schedules, we don't believe in, or promote any of that.

What we do promote is simple and consistent nutrition tips and resources that can be easily implemented into your lifestyle and sustained long term, for long lasting results.

One of the ways we do this is by providing our members with weekly nutrition recipes. Every week, Coach Molly releases a fresh, nutritious recipe to our members. We think it's safe to say she has a solid fan base of people who tag her on instagram weekly with the recipes they're brewing up at home.

As we're gearing up for some warmer weather and activities, we thought it was the perfect time to hand select a few of our community favorite Summer recipes and share them with you.
Balsamic Peach Chicken Kabobs
Prep Time: 30 minutes

Total Time: 45 minutes

Servings: 6
Ingredients:
1 lb/450 grams chicken thighs
4 peaches/540 grams without the pit
1 ¼ cup balsamic vinegar
2 tbsp extra virgin olive oil
½ tsp ground ginger
1 tbsp fresh basil finely chopped
Instructions:
Cut your chicken thighs into large chunks. (If you cut them too small the chicken can dry out)
Toss the chicken in a large ziploc bag with (¼ cup balsamic vinegar, 2 tbsp olive oil, ½ tsp salt, ½ tsp ground ginger, and 1 tbsp finely chopped basil). Squeeze out excess air and zip the bag closed. Use your fingers to massage the marinade evenly around the chicken. Let sit for at least 30 minutes, flipping the bag over occasionally
Slice peaches into large chunks (approximately 8 pieces per peach or approximately the same size as your chicken)
Skewer your peaches and chicken
Preheat grill to medium heat
Place your kabobs on the grill. Grill for 5 -7 minutes, flip, and grill the other side for another 5-7 minutes or until chicken is cooked through. (If your grill runs hot you may want to do less time or lower the heat. We don't want to char the kabobs!)
While the chicken is grilling, start making your balsamic glaze. To make the glaze, add 1 cup balsamic vinegar to a small pot. Heat until boiling. Reduce heat to low once it's boiling. You'll end up with small bubbles around the perimeter as it gently simmers. Let it continue simmering for about 10 minutes. Stir occasionally. It can burn quickly so keep an eye on it. Once it's reduced and thickened, remove from heat. Drizzle over finished kabobs as you're plating
Tomato, Cucumber, and Avocado Salad
Prep Time: 15 minutes

Total Time: 15 minutes

Servings: 4
Ingredients:
6 small tomatoes, cut into wedges (I like to use red, yellow, and orange)
1 English cucumber, cut into slices, and then halved
1 large avocado, pit removed, peeled, and chopped
3 tbsp thinly sliced red onion
1/4 cup chopped basil
3 tbsp white balsamic vinegar
2 tbsp extra virgin olive oil
Salt and black pepper, to taste
Instructions:
Place the tomatoes, cucumbers, avocado, and red onion in a large bowl
Sprinkle salad with fresh basil
Drizzle balsamic vinegar and olive oil over the salad
Season with salt and pepper, to taste
Serve immediately
Holy Guacamolly
Prep Time: 10 minutes

Total Time: 10 minutes

Servings: 8-10
Ingredients
4-5 Avocados/800-1000 grams without the pit
1 Jalapeno
2 cloves of garlic, minced
2 Roma tomatoes
A handful of fresh cilantro
½ red onion, chopped
1-2 limes to taste
Salt and pepper to taste
Instructions
Cut avocado in half and remove the pit. Scoop out avocado and place into a bowl
Using a fork, lightly mash the avocado (leave some chunks!). Then set aside
Dice tomatoes into small chunks
Dice onion, cilantro, and jalapeño (remove seeds) into small pieces
Mince 2 garlic cloves
Add veggies, garlic, and salt and pepper to avocado, and mix well
Top with lime juice for desired taste
Cheers to warmer weather and if you want more of Molly's recipes, there is a fantastic collection inside the Street Parking membership!