Blog
A Week of Eating for Under $100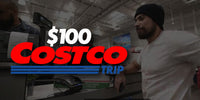 I recently took a trip to Costco (which is no joke like my Disneyland) and this time around I wanted to show you what I bought for our kitchen, how much it cost me, and how long that food will last.
First and foremost our household follows the Street Parking nutrition template lifestyle and Costco is template friendly. The template lifestyle is a simple method of building out a quality food list that frequents your kitchen, learning how to balance your plate with protein, carbs, fats, and veggies, and being able to assess how much of each food you need per day. Most importantly, the goal of the templates are to provide you with a structured way of eating that will produce results now and offer sustainability long term. 
Now let's take a look at what kinds of foods landed in my shopping cart during this specific Costco trip. 
A list of items purchased during this Costco trip
Avocados: ($6.99 for 5) Decent size 

Limes: ($6.99 for large bag) We use limes to flavor a lot of our foods alongside salt and pepper

Sweet Potatoes: ($12.99 for 10lbs) We usually pick these up at a local grocery store but we were already at Costco and the price was good so why not

Raspberries: ($5.49 for a case) I consume most of my fruits at breakfast and my goal is 200g of fruits per day. An assortment of berries is my go to choice

Blueberries: ($4.49 for 18oz case) 

Blackberries: 

($6.49 for a large case)

Mushrooms: 

($3.99 for a case)

Green Beans: 

($6.99 for 2lb case) I love using green beans for stir frys. Adds a great crunchy taste to the meal 

Leafy Greens: 

($3.99 for 16oz case)

Brussel Sprouts: 

($4.49 for 2oz bag)

Broccoli: 

($5.99 for 3lb bag)

Ground Turkey: 

($20 for 4 pack/$2.99 per lb) Ground turkey preps so fast and there are so many different ways to season it. If your budget allows for it, buy organic. If it doesn't, no worries. 

Liquid Egg Whites: 

($8.99 for case of 6)

Almond Butter: 

($7.99 for a large tub) 

Avocado Oil Spray: 

($5.99 for 2 containers) I like to do a light spray in the pan, put the veggies in, and then another light spray with salt and pepper on top. 

Flowers: 

Never leave Costco without buying your wife some flowers

How long will the above list of foods last our family?
We are consistently feeding a household of 3-4 people so we typically come to Costco 2x per week but for some of you, the list above could absolutely last you about a week.

What was the total for this specific grocery haul?
Total: $110.95
Keep in mind there are certain items like the almond butter and avocado spray that are going to last us longer than one week, and there are some items such as sweet potatoes that we can find for cheaper at the local grocery store. 


A few notes for additional context into our personal lifestyles
This specific grocery haul wasn't the only list of items found in our kitchen. We already had things like oats, apples, bananas, protein powder, and other veggies stocked in the house. 

Miranda and I aren't strict on counting our calories anymore but if I had to guess, Miranda eats 2200-2400 calories and I eat 2800-3200 calories per day.

We typically eat the same types of foods for most meals and just change up the seasonings, etc. to keep it exciting.