Blog
What is the 4th Trimester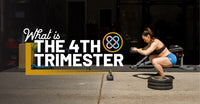 When a woman gets pregnant and has a baby, what are we most used to seeing? The initial pregnancy announcement, monthly bump updates, and announcing the baby's arrival. Past that, we watch women get back to work (sometimes as early as 4 weeks post delivery) and back in the gym (oftentimes 6 weeks post delivery). To the outside world, the transition from pregnancy to birth seems to be a seamless one and we watch women "bounce back" to their normal lives. 
The truth is, this isn't even close to what's taking place for a mother who just gave birth, but the majority of us have no idea because we weren't taught about the process and we don't talk about it openly. 
As a culture we need to change this by making it a priority to understand what the fourth trimester is, why it's crucial, and how to prepare for it.

WHAT IS THE 4TH TRIMESTER?
The fourth trimester is the first 12 weeks following the end of a pregnancy. Whether that pregnancy ended in a healthy baby, still birth, or miscarriage, those 12 weeks need to be supported no matter what kind of birth it was.
Whether it's a vaginal or cesarean birth, the fourth trimester is messy. The second the fourth trimester starts, women are thrown into the deep end and have to navigate a variety of new scenarios including: swelling, bleeding, healing, pooping, a ton of eating, crying, no sleeping, wild swings in hormones and emotions, growing pains with their partner (if they have one), etc.
This messy 12 week period should be a mother's opportunity to lay a solid foundation for her physical and mental health, as well as a time to start building a connection and adjusting to her new family dynamics.

SOCIETIES CURRENT EXPECTATIONS VS. WHAT'S NEEDED
Currently in our society, the importance of the fourth trimester is swept under the rug.
We as a culture glorify productivity and "the comeback" and because of this, we end up neglecting the physical and emotional well being of the mother, making her feel misunderstood, underappreciated, guilty, and restless.
Rather than allowing the woman to evolve into her new role as a mother of a newborn, we encourage her to get her body, life, and schedule back -- as quickly as possible.
She's left feeling restless and anxious to find some sense of normalcy during a period of time that is incredibly vulnerable, raw, and potentially new to her. 
In reality, we need to normalize this period of time for our mother's, making them feel safe and encouraging them to use this time for rest, sleep, enjoying skin to skin time with the newborn, communicating with partners and support systems, eating nourishing foods, getting fresh air, walking, journaling, rehabilitating their bodies, etc. We don't realize it in the short term, but the way we treat mothers in the 4th trimester has the potential to create lifelong benefits for both the mother and child.

GETTING EDUCATED AND ACQUIRING RESOURCES
So how do we shift how our society views this initial postpartum period? By educating ourselves on what's really happening, why it's crucial, and then building up a toolkit full of resources that we can either recommend or take advantage of ourselves prior to entering into the 4th trimester.
Now -- because the 4th trimester begins right after birth, it's crucial that we've already built up an internal library of resources we can access prior to the birth taking place. The good news is, the resources are out there and ready to guide postpartum mothers through their process. Here are a few subjects that are important to get educated on/acquire resources for prior to entering the 4th trimester:
Physical Activity:
Pregnancy and birth create a huge demand on the core and pelvic floor. There are major shifts in the joints and changes in the connective tissue. These changes that have taken place to a woman's body for almost a year demand a gradual and intentional "return to play". 
We program our "return to play" process into 3 segments:
Now -- a lot of mothers feel restless and anxious to start moving again and the good news is a postpartum mother can start her recovery process immediately after giving birth. 
If you are an active Street Parking member we have a section dedicated to our SP Mamas. Within those resources, we have a 4 week recovery program that's

designed to guide you through that funky period of time between going home with your new baby and getting cleared by your doctor for exercise again

If you are not an active Street Parking member you can access this program by purchasing the Street Parking Postpartum Bundle
Financial Prep:
Investing in resources can make a huge difference in a mother's postpartum experience, so knowing that beforehand and putting money aside for that period of time can be incredibly helpful.
If possible, start a separate savings account specifically for the purpose of investing in postpartum care

Consider putting postpartum needs on the registry
Breastfeeding + Nutrition:
Breastfeeding is like learning to ride a tandem bike with another human that has no motor control. It's a challenging feat, no one teaches women how to do it, and it's a skill that both mother and baby have to learn. Additionally, nutrition plays a critical role in the mother's ability to heal and breastfeed. Eating enough, nutrient dense, collagen rich, foods can help with the tissue repair and lactation.
Do research on local International Board Certified Lactation Consultants and if possible, be prepared to invest into utilizing one if you end up struggling with breastfeeding

To support the nutrition needs of our postpartum mamas, active Street Parking members can gain access to several postpartum resources including: recipes, a private FB group for mamas, Postpartum nutrition templates, one on one nutrition coaching, etc.
Community + Support:
Having a support system set in place prior to entering the 4th trimester is crucial. Whether it's family, a spouse, friends, or other individuals who are going through/have gone through the same experience, we all need community and support.
We know that mothers are coming from all walks of life which is why we created the Street Parking Mamas Facebook group to provide community for our SP Mamas to ask questions, share resources, connect, and receive support.
Our goal is to build a culture where mamas view their postpartum recovery and rehabilitation process as normal. We want them to look forward to the period of their day where they get 30 minutes to themselves to work through strategic programming specifically designed for them to recover, rehabilitate, and strengthen their postpartum bodies. We want them to have access to a virtual tribe of other women going through the same exact processes. 
We want them to have access to resources and support no matter where they live or what their circumstance looks like. We at Street Parking are committed to this goal and if you are a woman who is pregnant, going to be pregnant, or have had children, we are here to support you. 
SP Mamas and resources to consider following on Instagram:
@fearlessmiranda
@molly_vollmer
@care_o_leena
@emomdc